Kerstmis.

De elfde keer zonder Jordy.
Het eerste jaar, in 2009, wilde ik helemaal geen kerstboom. Al die feestelijke verlichting en waarvoor, zo dacht ik toen. Daar kan ik nog een hele hoop gedachtespinsels achteraan schrijven, maar dat is in deze nu overbodig.
Het gezin was verdeeld in deze gedachte, de anderen wilden wel een boom. De oplossing kwam door het idee van een 'herdenkingsboom'.
Een grote kerstboom werd in de voortuin geplaatst, het sneeuwde dat jaar en dat gaf iets nostalgisch. Iedereen werd uitgenodigd om een persoonlijke boodschap voor Jordy in deze boom te komen hangen, met naam of anoniem, dat maakte niet uit. Het leverde toen heel veel positieve reacties op en voor we het wisten bleek de boom eigenlijk al te klein. Maar we hadden een heel mooie 'herdenkingsboom'.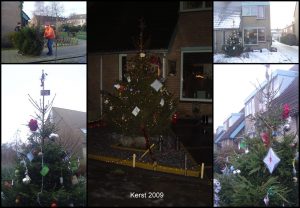 Nu in 2019, 10 jaar later, hebben we opnieuw een boom. Opnieuw buiten. Ditmaal in de achtertuin, gewoon voor onszelf. Op 1 december stond hij er al. Een 'doodgewone' kerstboom. Gewoon, omdat we ook een gewone kerst willen. Er liggen zelfs weer cadeautjes onder de boom, een dingetje waar ik in de eerste jaren niet aan wilde en kon denken. Het werd me niet altijd in dank afgenomen, maar zo werkten mijn hersens die eerste paar jaar nu eenmaal. Het heeft in de loop der jaren veel frustratie opgeleverd. Het begrip was ver te zoeken en deze toen genomen beslissingen van mij hebben best wel veel gevolgen gehad.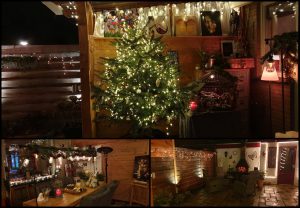 Maar alles wat in 2009 in de herdenkingsboom werd gehangen, wordt elk jaar, dus ook nu, tevoorschijn gehaald en uitgestald. Met memorabele gedachtes, die soms alle emotionele kanten uitschieten. Want wie spreken of zien we nog van degenen die toen een boodschap in de boom hingen? Zeer weinigen.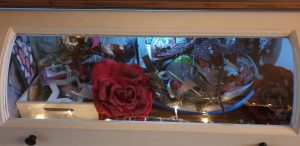 Gelukkig is het tij gekeerd. Kennissen zijn de beste vrienden geworden en ondanks dat zij in 2009 nog meer op afstand alles meebeleefden, hebben we nu een innige band en mag ik met hun altijd over Jordy praten als ik dat wil. Maar we hebben bovenal ook de leukste en meest gezellige momenten met elkaar.
Wat mij betreft: dat laatste groepje mensen telt en die zijn in ons huidige leven belangrijk, die eerste grote groep zijn inmiddels de vage kennissen geworden.

Ik wens iedereen heel warme, krachtige dagen en vooral een mooi samenzijn toe met een ieder die je lief is.